Register Now to Attend the 2021 – 2022 Leadership Academy
Program Overview:
Established in 2004, The Faurote Group Leadership Academy takes a proven approach to developing leaders. The Academy's success is due, in part, to the intentional design which ensures immediate application of learning and skill building, transferability of skills and knowledge and accountability and sustainability within an organization. With thousands of participants across a multitude of industries having attended the Academy, this 3-part, 6-day series delivers a unique and transforming (life changing) experience.
The program is designed for individuals preparing to take on leadership and management responsibilities or those already in leadership seeking further development ("what got you here, won't keep you here."). We have found a high percentage of individuals are promoted based on years of service and/or technical skills alone. Successful leaders are those that are well rounded with the necessary leadership skills to positively influence others and the organization.
What will you get as:
A Participant?
Gain a deeper understanding of yourself: strengths, development opportunities, drivers, drainers
Understand the importance of and how to bring the 'best' version of yourself to every situation by improving overall well-being, level of engagement and resiliency
Develop a skillset and grow competencies that will prepare you to effectively lead and develop others
Design specific strategies and goals
Gather diversity of thought and a network of professionals who become an inner circle of idea generation and best practices
An Organization?
Deeper bench strength
Loyal and committed leader
Leader who understands how to: drive commitment, engage others to higher levels of performance, hold others accountable, drive bottom line results, effectuate and lead change and recognize the importance of a healthy culture
Align participants goals with the organization's vision, mission, and values
Create higher level thinking and identify issues / solutions in context of organizational perspective
Pre-requisites: Work experience, contributing to and/or leading teams
Program Level: Intermediate
Comments from Prior Participants:
"Our partnership with Denny and Sarah of the Faurote Group was successful beyond our highest expectations. The program we developed was customized to address the needs of our employees and our business. In working with well over 100 of our leaders of all levels, their passionate and engaging style brought important leadership concepts to life and made a lasting positive cultural impact on our people that many in the program have called "life changing"."

Dave Horan, CFO, NextGear Capital, Inc.
"I can't say enough good things about the Faurote Group's leadership program—over the course of 4 sessions I was able to learn invaluable leadership skills to use at work and in my personal life. I bonded with a great group of other professionals in my industry and we shared real-life experiences and stories to enhance our understanding of the learning materials. I am now better equipped to lead my teams, develop my personal leadership style, and empower others. To top it off, the instructors Sarah and Denny keep it real; they are funny, engaging, and knowledgeable—you will not be disappointed! "

Michaela E. Bellefeuille, Senior Manager Wolf & Company, P.C.
"The leadership training that I received from Denny and Sarah was by far the best education I have received since becoming a professional. They bring to the table real world experience in my profession which helps validate the topics that they present. The atmosphere and dynamic that they create fosters thinking, learning, and interaction that helped me build long lasting bonds with other participants in the program. I have taken so much valuable information from the program that I have been able to apply in my every day work with my staff, as well as those I report to, and have been able to implement real change in my company as a result. I would recommend their programs to anyone that is leading a team and would jump at further opportunities to expand upon what I have learned from them by participating in other workshops that they put on. "

Christopher Martin, Senior Manager, SobelCo
Key Elements to Success
Kick-off Webinar: high level overview of program, content, expectations of participants and sponsor – attendees include participants and company sponsor (mentor / coach).
Live, Interactive, Experiential Sessions (see content outline for program descriptions) Group Virtual Session
Roundtable Discussions: each session begins with a group discussion on what participants have implemented, success stories (best practices) and barriers, and of application to provide additional learning to peer participants. Group Virtual Session
Pre-work and Post-work before and after each session: advance preparation is required prior to each of the Leadership Academy sessions and ranges from reading books, articles and or listening to podcasts / TED Talks aligned with program content.
Accountability partners and coaches: participants will be asked to identify an internal coach and be paired up a with peer in the Academy who will function as accountability partners.
Assessments: the EQ-i 2.0 Workplace Assessment (foundation) and a Behavioral / Communication style assessment will be administered.
Coaching: one-on-one personalized coaching focused on the unique opportunities and needs of each individual. The sessions are optional and can be used to enhance the customized experience of personal growth as a leader.
Continuing Education:
The content included in the Faurote Group Leadership Academy qualifies for continuing education credits with a number of governing bodies (eg: NASBA, etc.). If you report continuing education hours to a governing body for your profession that we are not currently approved for, we'll research submission for credit to align to your credentials as well.
Content Outline:
Session 1 (two-day virtual event)
Core Topics: Self-discovery and reflection
Leadership - Defining and framing the progression of leadership.
Emotional Intelligence - Understanding EI and the correlation to the ability to influence and effectively lead others (personally and professionally).
Relationship Building - Using relationship strategies by leveraging a behavioral/communication style assessment to better understand yourself and others and create action for developing trust and rapport as a leader.
Advance Prep: EQ-i 2.0 Assessment, Platinum Rule Assessment
Recommended for 18.6 hours of CPE (Fields of study include: Business Mgtmt & Org (5 hrs); Personal Development (8.6 hrs), Communications and Marketing (5 hrs))
Click here for Program Description for Session 1
---
Session 2 (two-day virtual event)
Core Topics: Effectively contributing through and developing others
Team Building - Exploring the difference between groups and teams and discovering ways to overcome common barriers on the path to team effectiveness.
Coaching - Inspiring growth in others by developing coaching and feedback skills such as: listening, questioning, building trust and providing feedback. Includes guidance on creating a culture of candor.
Click here for Program Description for Session 2
---
Session 3 (two-day virtual event)
Core Topics: Speak for impact
Professional Presence & Presentation Skills - Developing foundational platform skills to share compelling messages as a leader.
Change Management - Defining what it takes to effectuate and lead change, leveraging a three-step model for implementation.
Click here for Program Description for Session 3
Program Instructors:
Meet Denny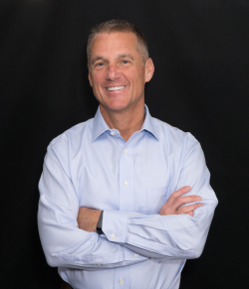 Denny Faurote is the founder of The Faurote Group. As a professional trainer, consultant and executive coach, he has successfully developed and delivered a multitude of programs to thousands of people around the world.

He began his career as a CPA for an international accounting firm where he spent eight years working on the client service side and another seven years in human resources, recruiting and training and development.

For the past 20 years he has worked with people and organizations around the world helping them reach their potential. Denny's creed is to help others succeed in the challenges of life. The Faurote Group's tagline is "Life is Calling." The Faurote Group's mission is to make sure individuals are prepared to answer the call.

Denny's background in business, operations, and human resources give him a unique perspective and a keen understanding in helping people and organizations navigate the ever-changing world.

Denny's vast knowledge and dynamic ability to connect and build rapport with all levels within an organization uniquely position him to be one of the most sought-after trainers and keynote speakers. His favorite topics include Life Fulfillment, Emotional Intelligence, Well-Being, Servant Leadership, Teamwork, Relationship Strategies, and Executive Presence and Presentation Skills.

Denny is a Certified Public Accountant (inactive), and holds various other certifications including: Emotional Intelligence Coach and Master Trainer – EQ-i2.0®, EQ360®, Platinum Rule™, DISC™, Predictive Index™, Supporting Success™ and The Corporate Athlete®. He is also an adjunct professor at Indiana University Kelley School of Business where he teaches leadership at the graduate level.
Meet Sarah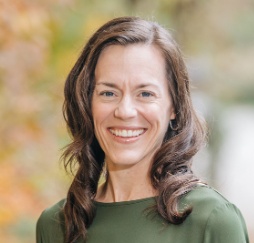 As a Principal at The Faurote Group, Sarah serves as a professional trainer, consultant, and executive coach to our clients. Her specialties include customized training programs for developing strong leaders, personalized coaching plans to assist in determining and achieving goals, as well as customized support for corporate initiatives for maximizing success. She has multiple certifications including the Emotional Intelligence instruments EQI2.0® and EQ360® as well as DISC, Platinum Rule™, Predicative Index™, and being a certified Corporate Athlete®.
With a strong business background in public accounting and years in Corporate Talent Development, Sarah brings a unique perspective to all levels of employees among a variety of industries. Her passion for helping others grow in an effort to capitalize an organization's most precious resource, its people, creates a dynamic and powerful formula for results.
In addition, she is actively involved in developing the young leaders of tomorrow, serving on the board of directors of the nationally acclaimed Hugh O'Brien Youth Leadership Program.
Program Investment:
Cost for the 6-day Leadership Series is $4,750* and includes:
Program attendance for the entire series (6 virtual training days)
All assessments used in conjunction with the program requirements
All pre-read articles required as advance prep
Breakfast and lunch on each training day
Access to two 1:1 coaching sessions with our Executive Coaches
The session fee does not include:
Pre-read books required as advance prep
*In 2021, as a part of our 20th anniversary celebration, we are offering a 20% discount to the first 20 registrants.
2021 Academy Program Dates:
The Leadership Academy Cohort for 2021 will meet from 8am to 5pm virtually.
Dates for the fall start class of 2021 will be published soon and will begin in November of 2021.
For more information regarding refund, complaint, and/or program cancellation policies please contact our offices at 317-826-2399.
Register Now to Attend the 2021 – 2022 Leadership Academy